Aliexpress EU Warehouse
Aliexpress has several warehouses in Europe. But sometimes it is a challenge to find products that would be shipped fast from EU.
Aliexpress stores with EU warehouses
Here it is the list of Aliexpress Stores that sell items with 7-Day Delivery option (it could be that not all items are available for fast delivery, but some are):
In this link you can also find Aliexpress stores with EU warehouses, and there you have the possibility to filter stores according to product categories and other criterias.
---
Aliexpress European warehouses
Aliexpress European warehouses are located in these countries:
Belgium – CAINIAO WAREHOUSE STANDARD or EXPRESS SHIPPING
Poland – CAINIAO WAREHOUSE EXPRESS SHIPPING
Czech – CAINIAO WAREHOUSE STANDARD SHIPPING
Germany – CAINIAO WAREHOUSE STANDARD SHIPPING
Italy – CAINIAO WAREHOUSE EXPRESS SHIPPING
Spain – CAINIAO WAREHOUSE EXPRESS SHIPPING
France
Cainiao is shipment company created by Alibaba group. Cainiao Warehouse standard shipping delivery time to European countries is about 3-7 days.
---
Aliexpress EU warehouse filter
Available options in the "Ship From" menu may vary depending on your location. For example, we can use it, if we select our location such country as Poland: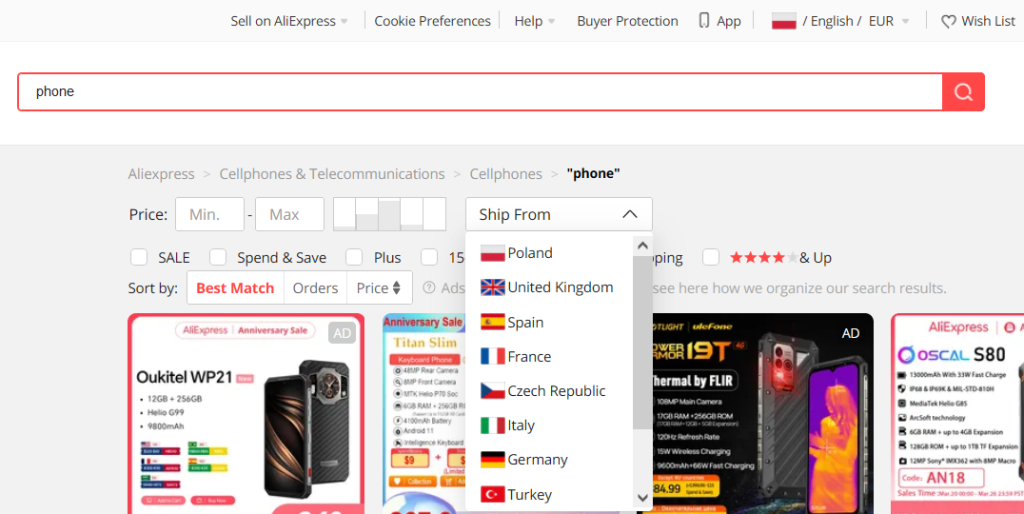 But its impossible to do that for other countries like Croatia, Lithuania, Romania, Slovakia, Slovenia and etc.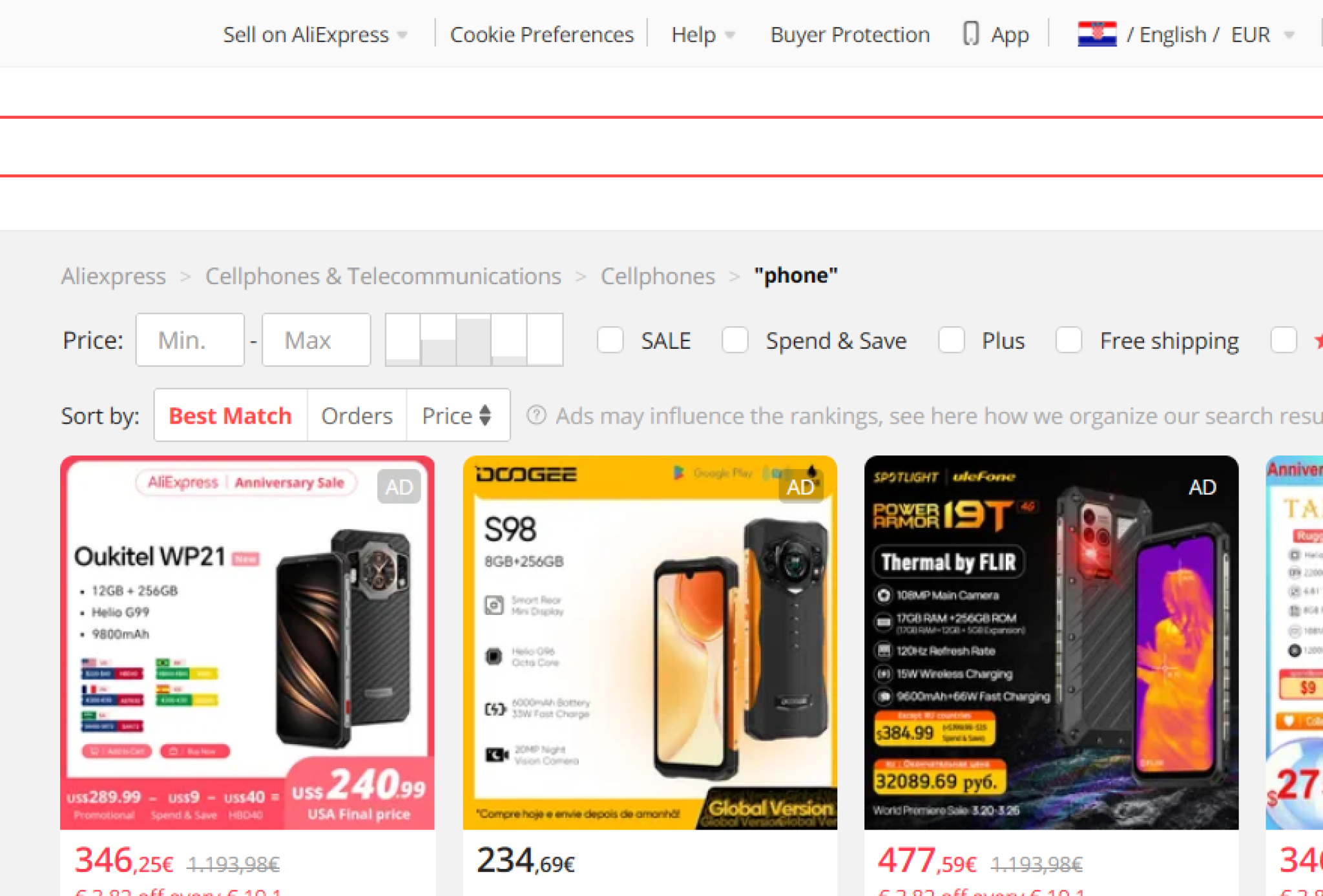 But those countries can still use it in this way:
First change your current country as Poland, Spain, France, Ireland and etc.
In the search bar at the top of the page, type in the product you are interested in and press enter.
Once the search results appear, look for the "Ship From" option on the left-hand side of the screen.
Click on the "Ship From" drop-down menu to see a list of countries.
Select the country you want to search products from. This will filter the search results to only show products that are shipped from that country.
Open those products on other page, or other browser and change back the country to your country. It is a big chance that those products can also be delivered to your country from Europe warehouse.
Another option to search
There is another simple option to search for Aliexpress goods from European warehouses. That would use such wording in the search: "European warehouse", "EU stock", "7 day delivery Europe". This is not 100% accurate, but sometimes worth a try.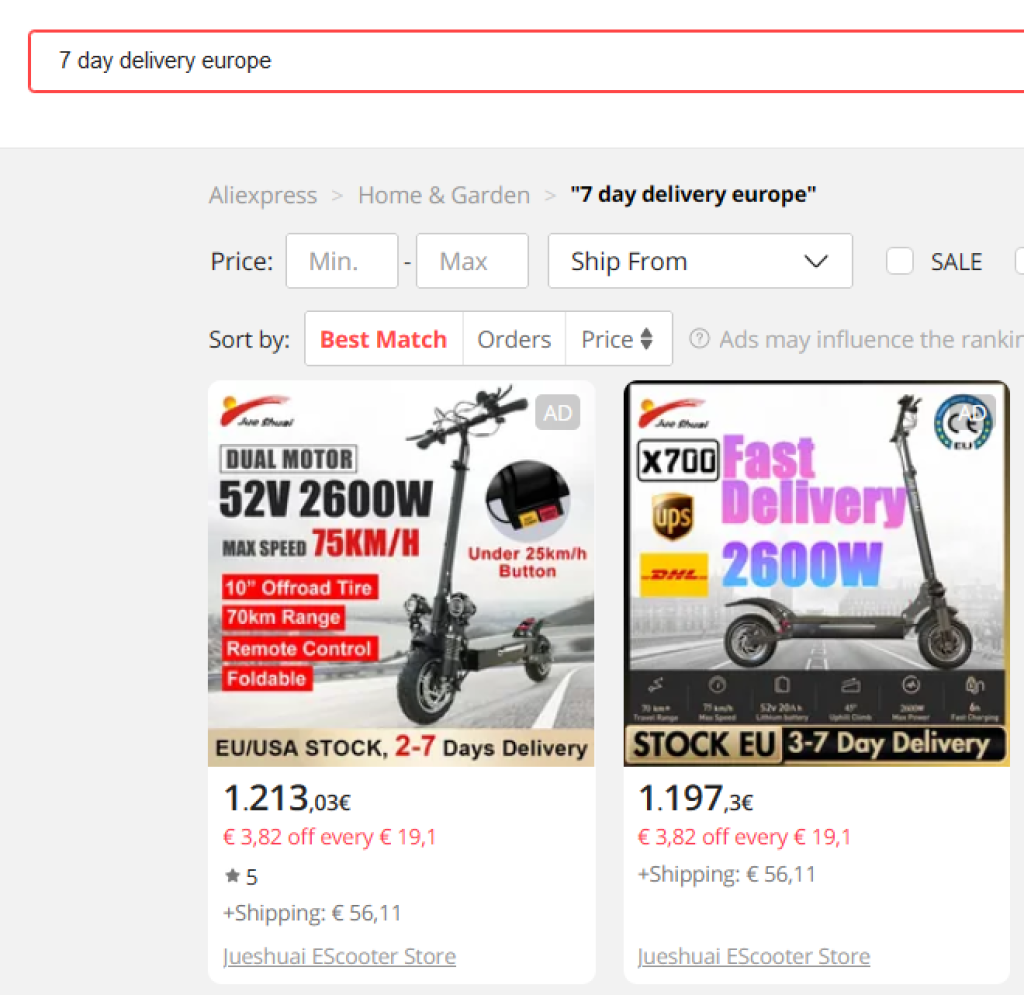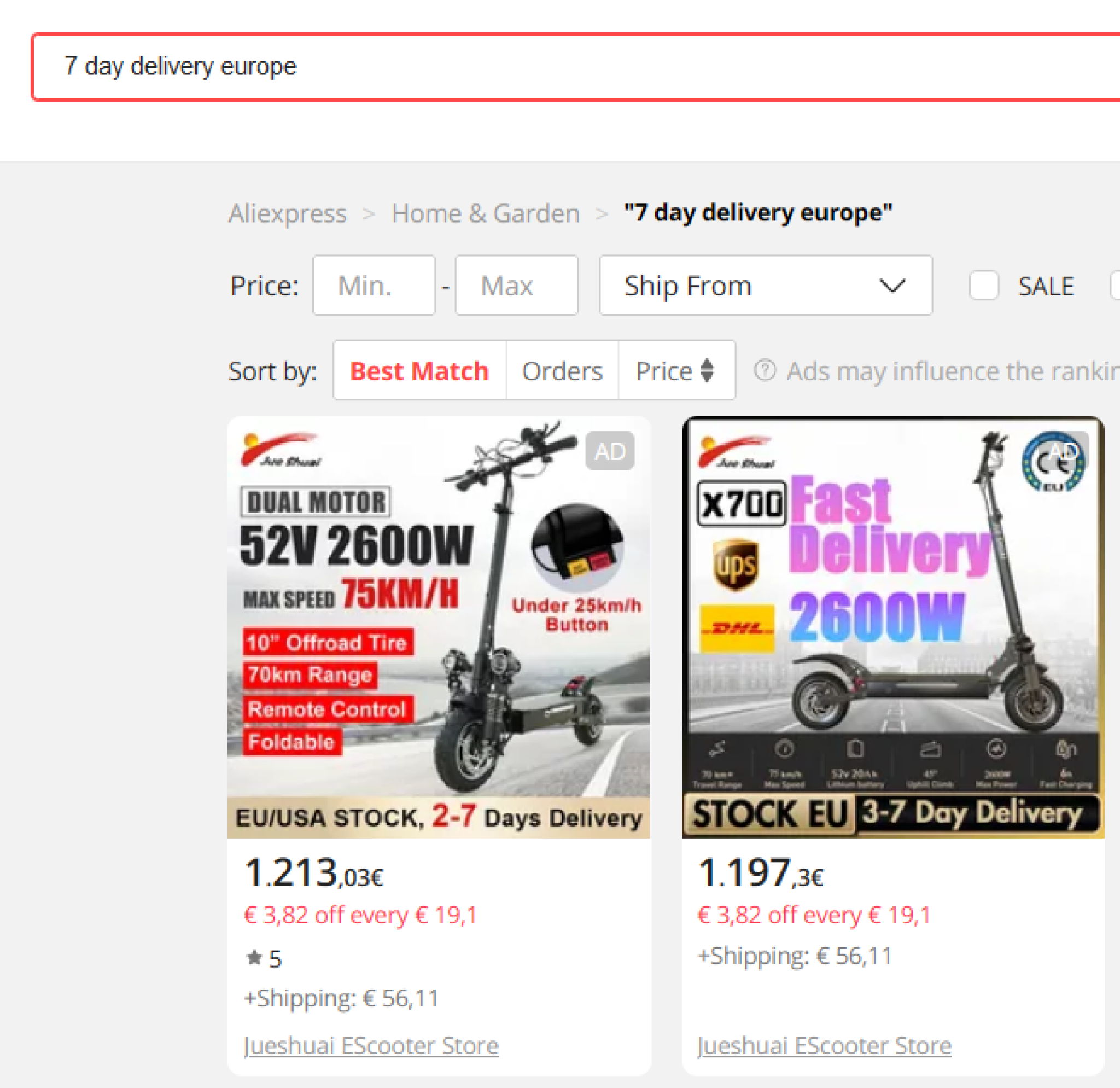 Fast delivery link
Also, there is a link for Aliexpress fast delivery from Europe – Delivery in 7 days (just that this filter is not very accurate and not always containing such items in each category).
Other China stores with EU Warehouses